Terraria 1.3 Update is Here!
Posted on: June 30th, 2015 by Obey
Since Terraria is another game that Newbs members play–another half-silly, half-serious, casual-yet-deep war simulator–I've been posting Terraria updates in this blog as well as TF2 and Valve news.  Huzzah: Terraria's first update in more than a year!
Below are MILD SPOILERS of what can be expected of this patch. Full patch notes will not be posted here; go to the Official Terraria Wiki for detailed patch notes.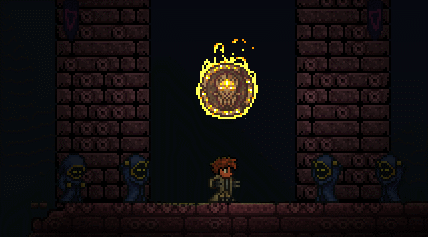 New Features to Be Found in Terraria 1.3:
You can now create a world in "Expert Mode", which does the following:

Tougher, smarter monsters with improved AI. Some monsters scale in difficulty as you complete events.
Enemies and pots drop more loot.
Boss health scales in multiplayer based on number of players.
Does NOT create the world in Hardmode.

"Lunar Events" are Hardmode, post-Plantera events that proceed after killing Cultists (see above) that spawn at the Dungeon entrance after Golem has been killed. These events will change several surface biomes to a temporary event version.
"Martian Madness" is a Hardmode, post-Golem event that creates waves of Martian enemies and a unique boss. Just look for the probes on the surface world….
Changed the spawn order for NPCs. Some cosmetic-oriented NPCs (like the Painter) only show up after you have a minimum number of other NPCs housed.
Chlorophyte can now revert the spread of corruption/crimson back to standard terrain, and turns dirt blocks into mud blocks.
Solid blocks and trees now show damage after beginning to mine/destroy them.
Over 800 new items to discover, including yo-yos, bouncy dynamite, and beach balls. Plenty of new stuff can be found by fishing in the Underground Hallow and the Underground Corruption/Crimson.
I'm not sure this is the full "Lunar Update" they promised over a year ago, nor do I think that this will be the final Terraria patch. I mean, you can't go up into space and land on the moon, yet….
But apparently "Terraria: Otherworld" will soon be a thing! Think of a Terraria game where you enter a corrupted, ruined world and attempt to revert it back to a less corrupted state.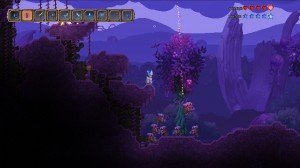 [N] Obey
Tags: 1.3, chlorophyte, expert mode, golem, hardmode, lunar, martian, plantera, terraria, terraria otherworld