Posted on: November 12th, 2014 by Obey
Not much to these last two patches; mostly bugfixes and one new promo item.
Nabler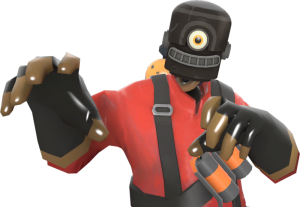 Ever wanted to give the Pyro a third eye? Ever wanted to have your very own Pyro doll? If one of these is true, then visit ThreeAToys and buy their replica Pyro doll, and you'll also earn a Genuine Nabler hat for your digital Pyro! The Nabler is also craftable, paintable, giftable, and tradable, and sold in the Mann Co. Store.  (And yes, that third eye moves in the direction that you move.)
TF2 Patch Notes: 11/7/14
Fixed a bug where players could be teleported to hell and not have visible bumper car
Fixed a text clipping problem with the HUD achievement tracker
Added ConVar tf_halloween_bonus_ducks_cooldown to control the frequency Merasmus speaks that line
Added a red glow for player ghosts on team Red
Updated rd_asteroid

Continued art-pass process

Updated sd_doomsday_event

Fixed a timing issue with Merasmus's announcement of the tickets becoming available

Updated koth_lakeside_event

Fixed missing collision on a barrel near the capture point
TF2 Patch Notes: 11/10/14
Undocumented Changes
Updated the equip_region for Cool Breeze, Tartantaloons, War Head, Flared Frontiersman, Safe'n'Sound, Texas Half-Pants and Nanobalaclava.
[N] Obey