Posted on: June 4th, 2015 by Obey
Don't forget: The Steam Summer Sale is coming soon! See the previous blogpost for more info.
The first Steam Machines are now available for preorder.
TF2 patched, launching the "Maps Workshop Beta".
1. Steam Machines (and Steam Controllers!)
Steam Machines are PCs designed and built to run using Steam OS, a free operating system made by Valve that would function in place of another OS like Windows or Linux.  These PCs are intended at attach to your digital TV and/or a standard computer monitor; it is essentially a console to run all things Steam (games, music, streaming services, and other software).  Here are previews from C-Net and GameSpot. Pre-order direct from Valve here.
Of course, you can build your own and install the Linux-based Steam OS yourself; Valve assumes that some users will do exactly that. PC Gamer put out two builds over a year ago here.  (Convenient timing on that new GeForce GTX 980, and the relatively low $649 price tag, eh?)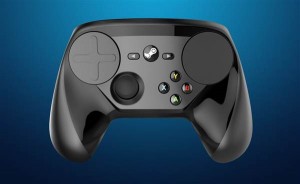 What is fascinating the tech bloggers though, is the Steam Controller (MSRP US$50). The main buttons (pads?) are essentially a trackpad-like touch surface, but designed for use with your thumbs; the left one being oriented more for cardinal directions, but the right one essentially replacing a mouse, but with your thumb tip.  From there, the controller grows into an Xbox-like set of corner buttons and smaller, colored buttons around the pads. There are more features, so watch the official trailer and let it show them off: Polygon blogged about it, as did NBC News.
Keep in mind that Steam OS is a Linux-based OS, so it can only play Steam games that can be played on Linux systems–and the Steam Library should continue to grow in that regard, assuming the OS is popular. Which I think is a pretty safe bet, given how many people hate Microsoft and/or Apple and their OSes. Also because Steam and the Steam OS is free.
2. TF2 Patch… and "Maps Workshop"
If you like designing maps for TF2, or are looking for some new places to gib fools, TF2 now offers a Beta Workshop where anyone can upload, download, and critique maps. While some of us crusty veterans have no need of new places to fight, the game stays alive by attracting new blood and bringing players back with new features. Click on the official blogpost to learn more.
There also was a minor patch, mostly to apply the Workshop functionality to the game.
June 2, 2015: TF2 patch notes
Announcing the Maps Workshop Beta!

Check out the blog post for more information
Maps uploaded to the workshop are automatically compressed
Added tf_workshop_refresh command to recheck tracked workshop maps and refresh subscriptions
Added tf_workshop_map_sync command to immediately install a map from the workshop by ID
Added sv_allow_point_servercommand to disable point_servercommand entities. Defaults to "official" Valve maps only. Can also be set to "disallow" and "always"
Undocumented changes
June 4, 2015: TF2 patch notes
[N] Obey