Posted on: December 9th, 2014 by Obey
Between a major Monday night TF2 update, and some minor updates I haven't covered from the last few weeks, we have a lot to cover!  As usual, the summary is on top, and the full patch notes are at the end of the post.
Packhead is

no longer hosting

a 24/7 Christmas music stream here, thru December 25th.  Thanks Pack!

Clink on the M3U button at the top-right to begin streaming.  (Works with iTunes too!)

(12/9/14) The "End of the Line" Community Update is now live (see below)! Read its splash page and watch the 13-minute animated short movie.

Added EotL Crate Keys, Piles of EotL Keys, and Random EotL Keys. They do not expire.
See below for the list of 21 community cosmetics found in the End of the Line crate.
One weapon reskin: the melee Crossing Guard, a railroad crossbuck complete with lights.

Equippable by all classes except Engineer and Spy, and deals stock melee damage.

Added a Pyro taunt: Pool Party.
Added Duck Journal and Duck Tokens for the End of the Line event (see below).

You must purchase a Duck Journal from the Mann Co. Store if you wish to participate in tracking duckies collected.
Collect Duck Tokens, and add them to the Duck Journal to level it up.  Duck Tokens are also giftable and can be bought in the Mann Co. Store.

Four new Unusual Effects have been added. Any Unusuals unboxed from EotL crates receive one of these four Effects only.  These Unusual Effects can only be obtained on Unusuals found in EotL crates.

NOTE: The entire update–the movie, the cosmetics, the duckies–are community-designed!

(12/3/14) Added the TF Tomb Contest 2014 winning cosmetic items: Jungle Booty, Crown of the Old Kingdom, and Tomb Readers
(11/13/14) Added End of the Line Crates.

EotL Crates do not expire. Items uncrated before January 5, 2015 will receive an "early supporter" tag on the item.
RoboCrate and associated items have been renamed Robo Community Crates, etc.
The Alien: Isolation promo items can now be bought in the Mann Co. Store.
1. The "End of the Line" Update
EotL Community Crates
EotL Keys (and Random EotL Keys) are US$2.49 in the Mann Co. Store. EotL Piles of Keys are US$57.27.
Opening an EotL crate drops one of 21 possible cosmetics, a new Pyro taunt, the Crossing Guard melee reskin, or the roughly 1% chance of an Unusual item with one of four EotL-specific Unusual Effects! A specific item has a roughly 4.3% chance of dropping. Some of the items uncrated will be Strange quality.
Taunts
Oh Look–Another Melee Reskin!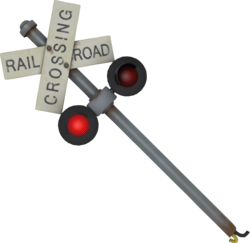 Yep, it's the Crossing Guard, a stock-reskin melee weapon equippable by all classes except Engineer and Spy. It is not currently craftable; the only way to obtain it at this time is to uncrate it from an EotL crate. But craft numbers have been enabled, so perhaps they will be craftable in the future.
Get Duckies
Carry your very own Duck Journal on your chest while you fight, and earn Duckstreaks that function as if you had a Killstreaker weapon equipped! Killing enemies also causes ducks to drop, which quack when picked up and are added to a Duck XP Level.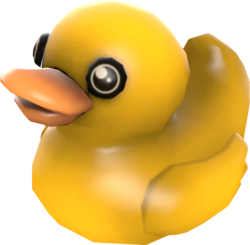 You must purchase a Duck Journal from the Mann Co. Store (US$4.99) to participate in this month-long, duck-collecting event. Basically, you collect ducks by killing enemies, and have a specialized Duckstreaker announcement in the killfeed.
Purchase Duck Tokens (US$1.99 from the Mann Co. Store) to level-up your Duck Journal up to a maximum of Level Five. Higher levels causes more ducks to drop from killed enemies. Piles of Duck Tokens are US$45.77, and function like the Piles of Keys tools (gives away one token to up to 23 random players on your current server). So do Random Duck Tokens Gifts (US$1.99). Duck Journals and Tokens are giftable after several days.
Statistics from duck collecting are being kept via leaderboards (much like the Dueling Game "Season"). Ducks will cease dropping on January 5th, 2015.  Is this just a shameless money grab? Who knows–but are those duck eyes hypnotizing?! If you are enjoying the new content, spring for a Duck Journal and Tokens so the creators of the content can get paid.
Snowplow…?
An attack/defend map, cp_snowplow, was intended for release with this update, reenacting the events of the EotL movie in the identical location.  Apparently it has not been included in the update.  Stay tuned.
Full Patch Notes: Patch 1–12/9/14
Undocumented Changes
Full Patch Notes: Patch 2–12/9/14
Fixed a client crash related to the main menu
Fixed a server crash related to ducks being created when players are killed
Updated the equip_region setting for some of the new cosmetic items[2]
Undocumented Changes
Patch Notes: 12/3/14
Patch Notes: 12/1/14
Updated Mann Co. Store prices for foreign currencies to current USD equivalents
Patch Notes: 11/26/14
Undocumented Changes
Fixed the Necro Smasher not glowing when crit boosted
Patch Notes: 11/20/14
Additional improvements for client stability
Added a check to prevent building in trigger_hurt areas
Fixed seeing bumper cart icons for deaths while in hell on maps other than doomsday_event
Fixed not hearing localized audio while connected to a server using sv_pure
Undocumented Changes
Updated model for the Buff Banner.
Patch Notes: 11/13/14
Note missed from the previous update:
Fixed a rendering problem for Linux clients using AMD drivers
Undocumented Changes
[N] Obey