Post-Halloween Patches: 11/6/14
Posted on: November 5th, 2014 by Obey
Hey Newbs! I hope you enjoyed the bumper cars, the second coming of the cap-camping Sniper and the aggressive sentry on the final point on Doomsday, and the new cosmetics.  I didn't update for the October 30th patch, so I'm updating that patch with yesterday's "apparently that was a bug" bugfixes.  Here's the TL;DR version and the full patch notes.
Oh–and the Newbs are telling me that most hats are very bugged: lots of hats suspended in midair and lots of other after-death glitches.  Somebody needs to go fix the hats again….
[EDIT: Includes the 11/6/14 patch also.]
Valve is asking its gamers to create promotional, classic "Tomb Raider" content.
There is a new server ConVar setting to allow/disallow random critical hits for melee weapons.
Updated the target reticle to move the health icon to just above the targeted figure, as opposed to the floating nameplate.

Added a ConVar to disable the reticle, so it goes back to the floating nameplate as before.

The four promotional cosmetics for Alien: Isolation are now craftable, tradable and giftable.
Updated the Necro Smasher so Strange Parts and Halloween Spells can be attached.

A

Strange

Necro Smasher is currently only possible via a Strangifier constructed via Chemisty Set.

Updated the Rescue Ranger so other players do not block line-of-sight for its sentry distance pickup ability.

[EDIT: 11/6] Also fixed the Rescue Ranger picking up buildings through walls.

Various bugfixes:

Fixed the Spycicle sometimes not giving the Spy the usual fire resistance.
Fixed standard knife stab to play correctly (and not the backstab animation) when crits are disabled.
Fixed disguise Spies not showing the correct health to enemies.
Fixed the Sniper getting stuck in a zoomed-in FOV after taunting while zooming.
Fixed Helltower having the same spell drop list as Carnival of Carnage.
Updated Merasmus's curses to remove all projectiles and empties sentries of ammo whenever players are teleported to the main point of the map.
[EDIT: 11/6] Fixed sentries having ammo when still being constructed during Merasmus's curse.
Diasbled server auto-balances during end-of-round minigames.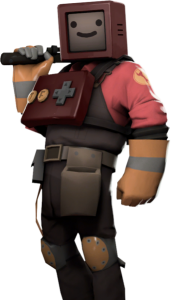 10/30/14 Patch Notes
Undocumented Changes
11/4/14 Patch Notes
Undocumented Changes
11/6/14 Patch Notes
[N] Obey
Tags: alien, alien isolation, backstab, carnival, carnival of carnage, eureka effect, helltower, hhh, lara croft, mersamus, monoculus, necro smasher, rescue ranger, tomb raider