Posted on: August 28th, 2015 by Obey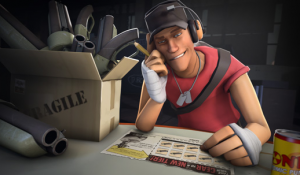 The "Gun Mettle" optional campaign is still going, but TF2 has elected to inject more items and item options. Here's the summary:
You can now Trade Up 10 Gun Mettle weapons of the same tier for a random weapon of the next highest tier.

Many mid-tier weapons are now increasing in Market price: see below.

Gun Mettle Cosmetic Cases can now drop for players with a Campaign Coin.

Apparently drops once per week, so there's a random chance you'll get one per week.
Requires a Gun Mettle Cosmetic Key to open.
Items from this case are marketable. Chance of items to be Strange (or an Unusual Hat).

PASS Time and Server Browser bugfixes.

Servers running a Beta PASS Time map now longer need to utilize sv_cheats to access many console features now.

8/28/15 Patch: Mostly bugfixes and item model updates.
Here is a link to the relevant blogpost.
Some prices in this guide were updated on August 30th.
1. Gun Mettle Trade Up
Oh, great. You finally finished a frustrating contract of a class you've not very skilled at, and earned another low-tier weapon you already have. That's no fun. (Look at the top image of this blogpost–Scout has way too many Backcountry Blasters!)
Now, you can do something with your extra, unwanted Gun Mettle weapons. You can take ten Gun Mettle weapons of the same tier, and convert them to one random weapon of the next highest tier. Right-click a Gun Mettle weapon from your backpack and choose "Mann Co. Trade Up".
A postcard pop-up will appear. The first weapon locks in what tier of weapons you can then conveniently choose from to fill out the remainder of the "coupon".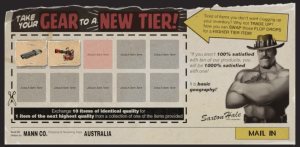 Click on "Mail In", click on the "Stamp" button, and then Mann Co.'s super shipping service will drop you a random weapon of the next tier. (If you need to see this process in more detail, see this post on Imgur.)
As a reminder, here is a list of the six weapon tiers, from my previous Gun Mettle blog post:
Civilian–contracts only
Freelance–contracts only
Mercenary–contracts or weapons cases
Commando–contracts or weapons cases
Assassin–weapons cases only
Elite–weapons cases only
Regardless of whether you mix weapons of different paint styles (Teufort, Craftsmann, Concealed Killer, Powerhouse), the weapon output *should* be random. Trading in ten tier 4 Teufort weapons (or any other combination) should output either a Tier 5 CK or Tier 5 PH weapon.
Trade Up's Effect on the Market
Three weeks before this writing, I blogged in this space about the current prices of various TF2 items. Well, being able to trade in Gun Mettle weapons should surely have an effect on their value in the Market. In the 24 hours since the launch of this patch, here is what I have observed regarding Gun Mettle weapons:
Tier 1 "Civilian" weapon prices are staying the same.
Each weapon has over 200 copies of each wear grade for sale, and the upgrade of ten $0.05 items to potentially another $0.10 item hasn't yet affected the prices of Tier 1 weapons.
Tier 2 "Freelance" and Tier 3 "Mercenary" weapons are spiking up.
Users are buying up the cheapest Tier 2, Tier 3, Tier 4, and Tier 5 weapons they can find, ostensibly to combine with their own extras and convert them to a higher-tier weapon. There are now fewer Battle-Scarred and Well-Worn versions of these weapons left for sale on the Market than before, since those had been the cheapest.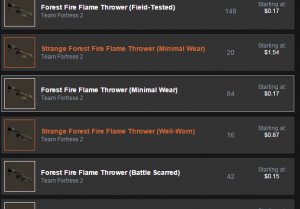 For example, a non-Strange "Forest Fire" Tier 3 flamethrower had been trading for roughly $0.06 to $0.35, depending on its wear. Forest Fire is now selling from $0.15 to $0.55, or effectively double what it cost before (see image above). Also, there are only dozens left on the Market, instead of hundreds previously. This tells us:
Some Tier 4 and Tier 5 weapons have also spiked, and some versions are becoming rare.
(Updated Aug 30) For a couple of days after this patch, you couldn't buy a Tier 5 "Sudden Flurry" stickiebomb launcher for less than US$2, whereas three weeks ago the higher-wear varieties for selling for well under $1. Now, the value has fallen back to about $1 in most cases. (Remember, previously Tier 5s and Tier 6s were only available by unlocking Cases by key.) Users are buying them up to trade in for a Tier 6 weapon. Meanwhile, the Factory New version are staying roughly the same price, since those are the versions that people want to buy and keep. As a result:
(Updated Aug 30) Some Tier 5 and Tier 6 weapons are gently falling in price.
"Factory New" weapons, as well as the other grades, are becoming more commonplace on the Market as users are selling weapons they received while trying to earn something else. Some higher-wear Tier 5s are increasing in price as a few users craft a Tier 6, while some are slowly falling as supply increases.
Now, you should consider whether you want to sell a mid-tier item–while demand is increasing for those buying them up, and while the supply is still there for players to trade up items–or keep it in the chance of it being rare later.  Or ignore all of this, and go kill some fools on 2Fort with your fancy weapons :p
TL;DR version: Keep your Factory New and Minimal Wear weapons. Consider selling or Trading Up the others, unless you simply love the looks of your Battle-Scarred Forest Fire.
Remember: All Gun Mettle weapons are Limited, and they will no longer drop after September 30, 2015. Meanwhile, the TF2 community continues to grow–especially with new players–so the demand for many of these weapons could rise after Gun Mettle ends.
2. Gun Mettle Cosmetic Cases (aka Crate #95)
The Gun Mettle Cosmetic Case is a special crate that will drop only for Campaign Coin holders and, according to the TF2 Blog, will only drop once a week (and a random chance of it doing so). Just assume that it is a rare crate, but you still have to buy a Gun Mettle Cosmetic Key to open it.
(As of August 30th, the cases are selling for about US$2 on the Market, and I expect that price to fall this week.)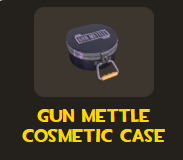 There are 16 possible items in a #95 Gun Mettle Cosmetic Case. All of these items, as well as the Cases themselves, are Marketable and tradable. They are not yet craftable or dropping in the Item Drop system.
That White Russian, tho. The Heavy abides: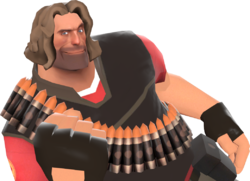 3. More Gun Mettle Minutiae
You can now buy Map Stamps and Strange Filters for the maps Powerhouse, Suijin, Snowplow, and Borneo.
The new Gun Mettle Cosmetic Cases is tabbed Crate #95.
Concealed Killer Cases are now tabbed as Crate #93.
Powerhouse Cases are now tabbed as Crate #94.
For your convenience, here are the #93 and #94 drop lists. Note that the listed percentage chances may not be correct; they were lifted from the Official TF2 Wiki.
Powerhouse Case
Concealed Killer Cases have been tabbed as Crate #93.
Full Patch Notes: Aug 27, 2015
Added Collection Trade-Ups!
Added Map Stamps and Strange Filters for the featured maps in the Gun Mettle Campaign
Added the Gun Mettle Cosmetic Case which contains new community cosmetic items[1]
All Strange items now have a visible icon in backpack panels
Added an option button to display paints and/or styles options for items in the Mann Co. Store preview page and the Steam Workshop item import tool
Added the OWL 14 tournament medals
Added a Steam Community Profile option to the player right-click context menu in the scoreboard
Fixed a buffer overflow exploit (thanks to Didrole for this report)
Fixed a Mann vs. Machine exploit related to purchasing upgrades while not at an upgrade station
Fixed a Mann vs. Machine exploit related to the Medigun shield
Fixed the Gun Mettle Coin not displaying its proper level in the Steam Community view
Fixed the Enforcer getting a damage bonus as the Spy was disguising and not fully disguised
Fixed the cvarlist command truncating some cvar/command descriptions
Fixed hitting 'Enter' while in the backpack menu triggering buttons in the main menu
Fixed invalid map names in nextlevel convar or the map cycle causing the server to fail to change level after displaying the score panel
Fixed the Engineer losing revenge crits and picked-up weapons after using The Eureka Effect to teleport back to base
The Dalokohs Bar can now accept Ally Healing Done strange parts
Updated several HUD elements to include the name of the weapon's owner when a player is carrying a weapon they picked-up
Updated the materials for the Stickybomb Launcher
Updated Mann Co. Store prices for foreign currencies to current USD equivalents
Updated the localization files
PASS Time update

Fixed scoring in your own goal if you change teams while the jack is in flight
Fixed players sometimes not being able to throw the jack
Fixed another case where players could teleport the jack with The Eureka Effect
Fixed The Dead Ringer making it impossible to throw the jack or deactivate the Dead Ringer
All global special abilities that are activated with alt-fire are now available while carrying the jack, unless you're actively aiming the jack
Unlocked console variables for community servers to experiment with without requiring sv_cheats
Fixed Scouts being able to pick up the jack while drinking
Fixed disguised Spies being able to carry the jack in some situations
Made weapon switch faster after throwing the jack
Fixed not getting a speed boost if you score and then get the jack after it respawns
Fixed a crash if mp_tournament was enabled and someone scored during pre-game
Improved the way blocking works
Fixed being able to cancel enemy taunts by hitting them with the ball
Fixed seeing a phantom jack in your hand if you threw the jack and couldn't switch back to your previous weapon (jars, cleavers, etc.)
Updated pass_warehouse

Fixed issue with jack getting stuck behind props
Fixed exploit of jack getting stuck in dropper
Fixed issue with unbalanced ammo and health kits
Moved resupply closets further from the doors
Added plank walkway to central warehouses on top of the containers

Server Browser

Fixed the history tab of the server browser failing to record servers
Fixed the spectate tab of the server browser not working at all
Fixed the game info dialog for SourceTV master servers improperly showing the server as not responding
Fixed connecting to SourceTV servers via the Favorites tab in the server browser
Fixed SourceTV relay servers not properly registering on the server list in some situations
Fixed the game info dialog for SourceTV relay servers not allowing connection despite open slots
Fixed SourceTV relay servers appearing to have negative max players

Maps Workshop Beta

Fixed map cycle files specified before the initial map load not properly tracking workshop maps
Fixed game servers using registered accounts via sv_setsteamaccount being unable to access workshop content
Fixed servers getting stuck in a loop when the nextlevel convar contains a un-loadable workshop map
Full Patch Notes: Aug 28, 2015
[N] Obey
P.S. I'll probably do another price guide in about 2-3 weeks, once the Market stabilizes from the changes in this patch.