(2nd Annual) Badass TF2 Pumpkin Contest Winners – And an announcement about NewbsMas
Posted on: November 5th, 2009 by octo dhd
As promised I'm posting the results of the 2nd Annual TF2 Newbs Pumpkin Carving Contest – This year we had 7 entries which is down from last year, but the entries were VERY good. I spent a long time evaluating the Pumpkins trying to decide who should win. I decided that in order to reward those who put the time and the dedication into making a pumpkin and submitting them that I would expand the prizes! So instead of one copy of l4d2 I gave away 3 copies! I had Jib send one to each of the three 'winning' pumpkins. The final odds of winning a grand prize in this contest ended up being a 3/7 which means that 42% of the entries won a copy of l4d2! You just can't beat TF2Newbs odds.
A big thank you goes out to Control Point for featuring our little contest on their podcast, I think its really kicked things up a notch – Thanks again!
All people who participated won 1 years worth of reserve on the Newbs servers, a forum honorz (will be added tomorrow hopefully), and 1 year of !hatme access (enables you to wear any classes hat). If you participated and want the Newbs server rewards contact me on steam, most of the participants I couldn't find in the stats db under their entry name so I don't know their steamid :) I can be reached @ http://steamcommunity.com/id/octodhd
I would like to take this chance to announce the next Newbs Contest… (drum roll) The next contest is the – Newbs Team Fortess 2 Christmas and other Winter Celebrations Contest. All entries will be TF2 and winter solstice themed. Entries can be winter decorations, confections, other food stuffs, songs, snow sculptures, or any other creative work. I will be announcing further details very shortly. If you want to keep track of the latest Christmas contest news please join http://steamcommunity.com/groups/TF2Xmas/. I'm not certain on the prizes yet (looking for some sponsors) but I promise that it will be worth your time :)
Back to the Pumpkins…..
The participants (in alphabetical order) -
Winners:
Gearpunk
kitty_tiky
LlamaMaster
Runner ups:
binjin
nfreak
nil.kemorya
odinspeed
These were the winning Pumpkins, I'll be posting all entries in our hall of fame soon (which means by Christmas).
Gearpunk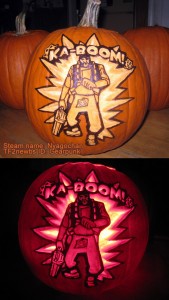 LlamaMaster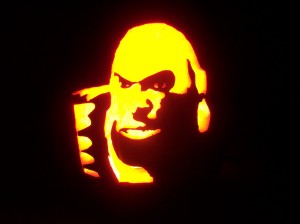 kitty_tiky

Tags: carving, Contest, l4d2, newbsmas, prizes, pumpkin, team fortress 2, tf2, winners