Posted on: July 6th, 2016 by Obey
This blog has been updated for the changes from Day 2.  Here's the summary, with more details forthcoming:
Day 1′s Important Changes
Competitive Mode is now out of Beta
PASS Time is now out of Beta
You can play in unranked (casual) games, if you wish, to match you into games with players with roughly equal Comp Rank
Three new Community maps

Released in the Day 2 patch: Sunshine, Swiftwater, and Metalworks

No TF2 patch has released yet–but one is expected on Day 2 (tonight or tomorrow?)
Day 2′s Important Changes:
A "WAR" between Team Heavy and Team Pyro

Choose one Team when you join your next Ranked or Unranked game
Points you score go toward your Team; doesn't matter what class you play
Winning Team overall all of TF2 (Heavy or Pyro) will decide which character will be first to get a patch designed for that character
The losing character will likely get a patch some time after the winner

Some important game rebalances
Added 4 new taunts
Added the Perfect Stranger crate
Added new "starter pack" crates and "keyless cosmetic" crates in the Mann Co. Store

Each class has one of each, so that you can outfit your favorite class

Added new items in the Valve Store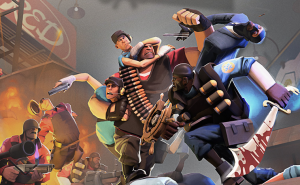 What is Competitve Mode?
As the splash page says, you can now join a ranked 6-vs-6 game, solo or with up to 5 of your friends, to play a Ranked game where the outcome of the game affects your Rank. Measured from 1-18, your Rank can go up or down depending on points scored and whether you win or lose. You can lose Rank and face temporary bans from Comp play by leaving a match or being disconnected.
There seems to be an option for 9-vs-9 games as well, but it isn't currently available.
Quickplay now has the option to join a casual, unranked match where you play against players of similar Rank. "Unranked match" means that playing doesn't affect your Rank, but does put you into a game with (hopefully) users of similar skill.
Here's the FAQ and the wiki page, but here's some more pertinent info:
To play, you need to be a Premium (not F2P) user. See this blogpost for more info on what Premium is.
To play, you also need either a valid phone number registered to your Steam account OR buy a Lifetime TF2 Comp Pass.

The Lifetime Comp Pass is not to be confused with the TF2 Comp Beta Pass.
If you currently have the Steam Mobile Authenticator on your smartphone, you should already qualify.

During play, note the following additional rules:

Currently only 6v6 is supported, no class restrictions
You can't change your teams, and you're penalized if you leave the match
Random critical hits are disabled for all weapons
Shotgun-type weapons (only) have fixed damage spreads (in a 3×3 grid pattern)
Symmetrical Control Point maps play best-of-3 rounds (or best-of-5 rounds in higher Ranks)
Attack/Defense maps play the Stopwatch mode where the fastest attacking team wins
DirectX9 and certain vanilla graphical modes/options are enforced

Maps currently supported: Process, Badlands (!!), Gorge, Gullywash, Snakewater, and KOTH Viaduct

Note that the 3 new Community-made maps are not yet supported
3 New Community Maps
(I'm glad to see that these maps aren't set in the desert.)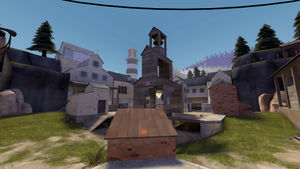 Sunshine is a traditional 5CP map designed for competitive 6v6 play that might remind you a little of Badlands. Has already seen UGC Comp play. A Halloween-themed clone, Sinshine, also exists, so expect it to show up in this year's Halloween rotation as well.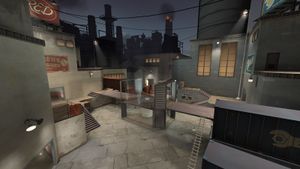 Metalworks is also a traditional 5CP map, set in a cloudy industrial setting at night. It's as grey as your bosses' hearts.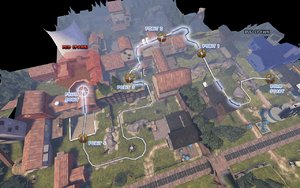 Swiftwater is a payload map in a water bottling map in an Alpine setting. This map has seen lots of play in the UGC Comp Highlander ladders.
Important Game Rebalances
There are SO MANY important game rebalances, I'm going to have to write a separate blogpost about it. Here are the biggest changes:

Yeah, I'm out of time. Scroll down to read the patch notes–you'll be glad you did. Have fun adjusting how you play Medic!!
4 New Taunts
These taunts are currently only available for purchase in the Mann Co. Store, and not in a crate at this time.
The "Perfect Stranger" Crate
Also known as Crate #103, this crate requires a standard Mann. Co Key, and is filled with Strange-quality weapons and weapon parts that have been requested by the TF2 community. Here's what's inside:
Strange

Part: Heavies Killed

Strange

Part: Pyros Killed

Strange

Part: Critical Kills

Strange

Part: Allied Healing Done

Strange

Part: Damage Dealt

Strange

Sandvich

Strange

Natascha

Strange

Powerjack

Strange

Degreaser

Strange

Reserve Shooter

Strange

Ambassador

Strange

Quickiebomb Launcher

Strange

Back Scatter

Strange

Panic Attack

Strange

Iron Bomber
or the usual 1% chance of an Unusual cosmetic item
None of the above items existed as a Strange item before. Also, all of those items are assumed to have an equal chance to drop. (Don't forget: all of those items are marketable also!)
"Starter Pack" Item Bundles
Nah man, it's not a meme.  These are item packages sold in the Mann Co. Store to outfit the class of your choice. They're on the Home screen of the Store under the "Starter Pack" tab.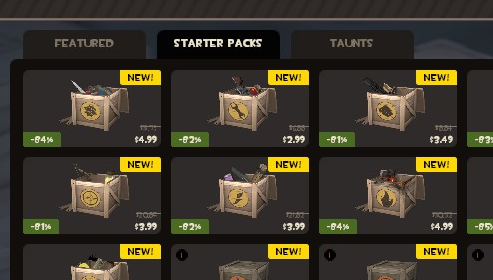 Each item bundle includes one each of all of the non-Stock, non-promotional items for that class. All of the items are Unique-quality, cannot be used in crafting, and they (and the item bundle itself, if left unopened) are tradable after a few days. The bundles cost between US$2 and $6, with the Medic being cheapest (fewest items) and the Soldier being the most expensive (most items). Each bundle also includes one Name Tag, so you can rename your new favorite weapon.
For example, the $3.99 Sniper Starter Pack include a Huntsman, Razorback, Jarate, Tribalman's Shiv, Syndey Sleeper, Darwin's Danger Shield, Bushwacka, Shahanshah, Bazaar Bargain, Machina, Cozy Camper, Cleaner's Carbine, Hitman's Heatmaker, and the Classic, plus a Name Tag. (Note that you don't get items like the AWPer Hand or a Fortified Compound, because those were both promotional weapons and cosmetic reskins of other weapons.)
You can also choose not to open the bundle after you buy it, and trade or market it later. Perfect for gifting to noobs.
"Keyless Cosmetic" Crates
Called the "Unlocked Cosmetic Crates" in the Mann Co. Store, you can buy for US$2.49 (the same price as a key!) this tool item of the class of your choice. When opened, it produces one random cosmetic equippable by that class, with an unknown chance of it being Strange or Unusual. These crates are found under the same "Starter Pack" tab in the Store.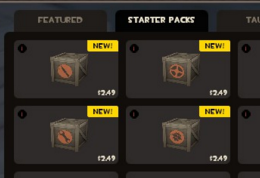 We don't know what the chances are for the item to be Strange or Unusual. We also don't know if all-class or multiple-class cosmetics can drop from it, or cosmetics from certain series like Robocrates, or promotional items. The crates do say that any Strange or Unusual items pulled are hats only, so don't expect to get lucky and pull an Unusual that wasn't possible before. If a drop list becomes available, I'll provide a link in the future.
Consider this: It costs four refined metal + one class token to craft a hat of a given class (or three ref for a cosmetic of a random class), which is cheaper than buying this crate (or a key). But it can be a pain to bother finding a trading partner to trade enough metal, with keys being worth 20 ref for a while now.
Also, all of the cosmetics for sale in the Mann Co. Store are minimum US$4.99, so whatever you get is a relative deal. The TF2 community, as well as Valve, has gotten away from crafting or introducing new weapons into the economy (at least until the Pyro and/or Heavy future patches come out), and players are much more likely now to buy straight from Valve or the Market. TF2Newbs still has two trade servers, #2 and #18, so you can try to find trade partners there.
One More Thing About Crates
All (well, maybe most) crates in your inventory now include a list of the possible items within. If you mouse over the items, you get a pop-up picture of the item, so you can see better what possible items are in the crate.
Full Patch Notes: July 8, 2016
As always, the full patch notes are from the Official TF2 Wiki.
Added Casual and Competitive Matchmaking modes
Added the Heavy vs. Pyro war
3 new community maps
Added 3 new community taunts
Added 1 new official taunt
Added the

Perfect Stranger crate
General
Reworked the main menu

All play-related buttons are now accessible by clicking the "Find a game" button
Moved the Workshop and Replay buttons down the bottom group of mini-buttons

Enemies killed by energy weapons now play a special sound as their body dissolves
Improved stopwatch UI to help better communicate game state
Added new sound vo files for Competitive Mode
Added sounds to all attacks where the target player resisted a part of the damage
Added Prinny promo items for purchasing

Disgaea

:

Prinny Hat

,

Prinny Pouch

, and

Prinny Machete

Added AsiaFortress Cup Mercenaries Cup Season 7 medals
Added Random Acts of TF2 medals
Added check to prevent players with P-REC loaded from participating in matchmaking

Prevents P-REC crashing which results in players receiving abandon penalties

Updated the Demo Support feature

Added an option to only record matches that are played using Tournament mode (mp_tournament)
Added an option to auto-delete matches that don't have any events recorded
Fixed a bug where tickcount values were being noted incorrectly
Options can be set using the Adv. Options menu

Updated model/materials for the

Bonk Boy

,

Dr's Dapper Topper

, The

Sole Saviors

, and The

Dark Falkirk Helm

Updated the localization files

PASS Time

update

No longer in Beta!
New Items Available

An

Early Participation Pin

will be awarded to everyone who played PASS Time during beta
Two new achievements with item rewards

Tune Merasmus's Multi-Dimensional Television
Jackpot!

Map Changes
Game Mode Changes

Changed the score limit from 3 to 5
Tweaked various JACK throwing parameters
Pack Running

The JACK no longer heals the player carrying it
A player carrying the JACK with no nearby teammates is marked for death
Teammates near a player holding the JACK will be slowly healed, and can run as fast as the fastest nearby teammate

JACK Power

Passing the JACK increases a power meter
The power meter will decay over time
Filling the power meter unlocks a special goal worth extra points

Art Changes

New view model animations
The HUD provides more information about goal type and status
Player pips for Spies will reflect cloak and disguise status

Misc Details
Bug fixes
Fixed being able to repeatedly activate taunts before the current one had ended while underwater
Fixed disguising with the

Conniver's Kunai

while spotted by a Sentry causing the Sentry to ignore the Spy
Fixed class change notifications appearing to the enemy team for a period of time after teams swap sides in Competitive Mode
Fixed a case where players would sometimes see other players carrying the wrong weapon(s)
Fixed a bug where the Engineer couldn't remove the Sapper from a linked teleporter if was building (not active)
Fixed a bug where the Engineer was able to heal a linked teleporter while it was building. This now matches the behavior for the other buildings.

[1]

Updated several hats to fix the Sniper not removing them while taunting
Fixed hiding the Pyro's head when using the second style of the

Fear Monger

Fixed using the wrong ozfortress medals for divisions other than Premier
Fixed a few UGC tournament medals using the wrong names
Fixed the Engineer's missing pelvis

hitbox

Thanks to Justin G., aka sigsegv, for these reports

Fixed airblasts sometimes sending reflected projectiles toward friendly players, buildings, and projectile shields
Fixed demo record/read stringtables not writing/reading past 512kb
Fixed inconsistency between items that use mini-crit buff (TF_COND_ENERGY_BUFF)
Fixed multiple Mann vs. Machine bugs caused by bot AI functions being executing after the bots have died
Fixed a bug related to lunchbox items, where the ammo bar can be drained in cases when it shouldn't be
Fixed Medics sometimes instantly reviving players in Mann vs. Machine
Performance
Fixed several cases of loading and rendering hitches that would cause abrupt changes in FPS
Improved Flamethrower flame performance in Mann vs. Machine on clients and servers by up to +500%

VGUI

.res files are now cached after loading, reducing framerate hitches. Custom HUD authors can disable this by setting vgui_cache_res_files to 0.
Improved rendering performance of zombies
Improved VGUI font performance
Custom HUD Versioning
In order to reduce crashing and broken UI elements after updates, custom HUDs now must explicitly specify the version of the TF UI with which they are compatible
Custom HUD files must now be installed as add-ons under the tf/custom/ folder. Loose .res files extracted to the game directory will not be loaded
Custom HUDs must now contain a file named "info.vdf" in their root folder, with the key "ui_version" set to the TF UI version with which they are compatible
The current TF UI version is 1
Non-HUD add-ons under tf/custom/ will continue to work without an "info.vdf" file, but may not load .res files
Mann Co. Store
Added the

Competitive Matchmaking Pass

Added new class starter packs
Added new key-less cosmetic crates
Revamped main store pages
Added a spotlight item
Added ability to mouse over and preview items in a bundle/crate/collection
Adjusted some weapon prices for consistency
Maps
cp_granary

Added new ammo pack locations in final and yard areas
Clips and

blockbullets

added to stairs

cp_badlands

Final cap point capture time increased to 2 seconds (from 1 second)

[2]

Clips and blockbullets added to stairs

cp_foundry

Reduced ammo kit in final cap entry room (attackers' side) to medium
Slightly reduced attacking team's spawn time when working on final

pl_upward

Fixed an

exploit

where players could sometimes build sentries in the cliffside by capture point 3

pl_thundermountain

Fixed the first and second cap points of stage 3 each awarding 2 points to the capturing team instead of 1

Mannpower

All official maps now set Mannpower mode without requiring the use of the tf_powerup_mode convar
Game Balance
Soldier

The

Righteous Bison

Fixed a bug causing players to be hit by the same projectile multiple times, causing the damage dealt to vary wildly
Per-shot damage has been increased to compensate, resulting in slightly more damage on average

[1]

Point-blank deals 54 damage (previously 20-80)
Maximum range deals 24 damage (previously 14-56)

Slowed projectile by 30%
Projectile damage reduced by 25% for each enemy penetrated
Updated projectile impact sound

The

Disciplinary Action

Reduced duration of speed bonus on teammates to 2 seconds (from 3)

The

Rocket Jumper

Updated model/materials and sound
Sniper

Cozy Camper

Now requires a full charge to gain flinch resistance

The

Sydney Sleeper

When fully charged, or when making a headshot, now applies Jarate in a radius
Scoped shots now extinguish teammates

The

Cleaner's Carbine

Removed hidden +10% damage taken multiplier while under the effects
Heavy

Natascha

and

Brass Beast

20% damage resistance now only applies when spun up and below 50% max health

Huo-Long Heater

Added -10% damage
Added +25% increased damage vs. burning players
Reduced ammo drain to -4/sec (from -6)
Reduced pulse damage from Ring of Fire to 12 (from 15) due to increased damage vs. burning

Buffalo Steak Sandvich

Fixed "damage taken" multiplier accidentally being +10%, instead of the listed +25%

Spy

Base

Max speed increased to 320 (from 300)

Enforcer

Attacks pierce resist and absorb effects from all sources
Medic

Base
Quick Fix

ÜberCharge rate reduced to +15% (from +25%)

[3]

Overdose

Increased movement speed bonus to +20% (from +10%)
Increased damage penalty to -15% (from -10%)

Dropped Mediguns

Stored

ÜberCharge

begins to decay over time after coming to rest
Demoman

Base

All boots now require a shield to activate any move speed bonus listed on the item

The

Iron Bomber

Decreased the fuse time to 1.4 seconds (from 2.0)

The

Quickiebomb Launcher

Increased charge time reduction to -70% (from -50%)
Increased damage bonus for (max) charged shots to +35% (from +25%)
Increased clip size penalty to -50% (from -25%)
Removed "

Stickybombs

fizzle 4 seconds after landing"

The

Sticky Jumper

Updated model/materials and sound
Engineer

Base

Level 1 teleporters now cost 50 metal (previously 125)

Widowmaker

Damage increased +10% when attacking the same target as your sentry

Eureka Effect

Reduced "50% less metal from Dispensers and Pickups" to 20%
Added "Teleporters cost 50% less metal"

The

Short Circuit

Base projectile attack is -10 metal (hit or miss) and then add -5 metal for each projectile destroyed (sometimes a buff, sometimes a nerf)

The

Pomson

(sic)

Fixed an exploit with shooting through your own buildings
Increased close-range damage to 72 (from 62)
Reduced long-range damage to 32 (from 42)
Updated projectile impact sound
= Undocumented changes
Pomson 6000

Added projectile impact particle.
Patch 2
Fixed a bug where the Medic's run speed would not adjust when his heal target was killed
Fixed client crash related to custom HUDs
[N] Obey
Feel free to leave a comment with any questions, and I'll answer them in a future blogpost.
And expect a blogpost about the item rebalances and bugfixes in a LENGTHY blogpost in the next three days. 284,677 lifetime hits, and we want more!