Posted on: December 21st, 2016 by Obey
By the way, 2fort servers #04 (and sometimes #05 and #18) have been regularly starting up most evenings, usually around 6PM EST/3 PM PST, and are active for a few hours. If you're looking for some 2Fort action without hackers or grossly unbalanced teams, just type "connect server4.tf2newbs.com" into your console; no password required.
Meanwhile, the ever-expanding adventures of the Newbs' XCOM 2 saga can be found on our forums. Read up while you're powering through all that fruitcake.
Speaking of fruitcake, server admin Packhead is streaming free Christmas music! Find that link on our forums as well.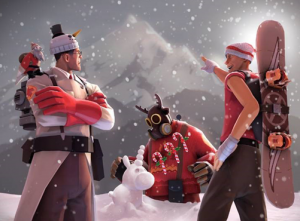 The short version of the latest Holiday Update:
The Steam Winter Holiday Sale started today!
No new contracts, maps, or weapons this season. Definitely a simpler update this holiday season.
Logging in to TF2 during this event scores you a Gift-Stuffed Stocking tool item.

If used, it contains 2-3 random weapons, paint can, name tag, description tag, backpack expander, giftapult, and occasionally other random items such as cosmetics. These items are untradeable.

The keyless Winter 2016 Cosmetic Crate drops new community-made cosmetics.

Instead of buying a key and dropping/buying a crate, you just buy the unlocked crate.
Crates don't expire, but they can only be bought for a short time.
Crates have a chance of also dropping a Festivizer tool that makes an item festive.
Festivizers now work on more items.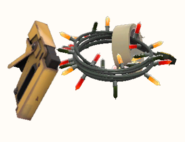 Mann Co. Store is having a 20%-75% off sale, highlighting tools and cosmetics.

Sale now thru January 11th.
Valve Winter Sale hasn't started… yet.

Matchmaking changes (see below)
Matchmaking Changes
At the end of a Comp or Casual match, the following happens:
Players are automatically formed into a rematch with the same teams of players.
Server then prompts map vote of current map or two others, based on searched maps of player prior to match.
Casual now has a new, voluntary version of the old autobalance system. During a match, you may be prompted to switch sides if teams become unbalanced because of players leaving games. If you volunteer, you will earn bonus XP during the match; you are not required to switch, and no one will be forced to switch sides.
Also, you can now set a maximum accepting ping for Comp or Casual matches but selecting the gear icon in the Matchmaking lobby.
Full Patch Notes: Dec 21, 2016
As always, full patch notes courtesy of the excellent Official TF2 Wiki.
All players who play TF2 during the event will receive a Stuffed Stocking as a gift! Stockings contain goodies for good little Mercenaries.
Added the limited-time key-less Winter 2016 Cosmetic Case to the Mann Co. Store
Added 3 new taunts to the Mann Co. Store
New weapons for the Festivizer!
Mann Co. Store winter sale!

Look for 20%-75% off selected unlocked cosmetic crates, taunts, and tools in the Mann Co. Store through January 11th, 2017

Matchmaking Improvements

At the end of a Casual match, players are automatically formed into a new match with the same players and teams

Players get to vote on which map the new match will take place on

There are 3 maps to vote on, chosen based on the maps everyone in the match had selected when they began searching for a match. The current map is always the first option.

This replaces the Rematch system

Players can now set their maximum acceptable ping by clicking the new gear icon in the top right of the Casual and Competitive matchmaking lobby screens and choosing "Ping Settings"

New autobalance system to help with balancing teams when players leave a match. The system will ask players to volunteer to switch teams.

Automatically enabled for all Casual match servers

Players who switch will be able to earn bonus XP as a reward

Community servers can enable this new feature by using "mp_autoteambalance 2″
General
Fixed security issue reported by Justin G. (sigsegv) and Linus S. (PistonMiner)
Fixed not clearing the teleport condition for players who have their teleport interrupted before the teleport is complete
Fixed PASS Time exploit related to bonus points
Updated mat_monitorgamma so it can be adjusted in Competitive mode
Fixed the ShouldPreserveSquad flag not being parsed correctly in Mann vs. Machine mode
Fixed a bug related to bot Engineers and teleporters in Mann vs. Machine mode
Fixed incorrect particle position for Unusual taunt effects when using the Racho Relaxo(sic)
Added the ESA Rewind tournament medals
Added the Winter Wonderland 2016 community medals
Updated the Dalokohs Bar to fix a bug related to the health buff
Updated cp_metalworks to fix a texture problem
Updated pd_watergate

Respawn times will now change depending on which team is in the lead: 8 seconds to leading team, 4 seconds to trailing team
Moved the current beer amount to the center of the HUD
Added a jump to low spawn route to give respawned players something to do en-route to mid
Added a light to illuminate roof-snipers better
Adjusted some clipping[N] Obey