Posted on: October 29th, 2014 by Obey
Hey, it's finally here–and some players thinks it's the best Halloween update to boot!  The event runs through November 12, 2014. Better strap in, because you're gonna love the bumper cars!
Launch of new Halloween 2014 Map: Carnival of Carnage.

Magic spells and end-of-round zany bumper car fun included.

50 new Halloween-themed cosmetic items.

Everyone gets one free Halloween Gift Cauldron and can unlock another.

New melee weapon reskin: The Necro Smasher

Earn by unlocking enough Halloween 2014 achievements.

Full patch notes

Unusual items uncrated until November 12, 2014 will have Halloween-themed Unusual effects, instead of the typical effects granted by its Unusual Series.
For a limited time, you can buy previous Halloween-themed cosmetic items from the Mann Co. Store.
Halloween Crates can be bought from the Mann Co. Store.
Read the new TF2 comic: "Blood Money"!
0. Servers Currently Set to Halloween Maps:
Carnival of Carnage (2014 Event): #07, #09
Helltower (2013 Event): #12, #15
Harvest Event (2009 Event): #13
1. Carnival of Carnage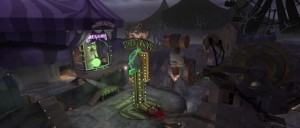 Merasmus's Carnival of Carnage [sd_doomsday_event] is a Halloween Event map, and a reskin of Doomsday, Valve's only official-to-date Special Delivery map. Instead of launching the monkeynaut Poopy Joe briefly into outer space to win, now you compete to be the team to raise a suitcase full of tickets to the top of the Strongmann Machine, while Merasmus launches snarky comments and global curses at everyone.
When the suitcase reaches the top, both teams enter one of three possible bumper car mini-games!! Oh, and there are Magic Spell powerups for you to cast at the other team, like the Helltower map. And yes, you can cast spells while driving a bumper car!
For more information on how to play this map, consult my TF2Newbs' Guide to Halloween Event Maps.
2. Gift Cauldrons and New Cosmetics
Alert!  You have new items!
Yes, you do! Every player's TF2 account automatically receives one Antique Halloween Gift Cauldron, and you'll be alerted the first time you load the game.  This Limited action item can be used once to drop 3 random Scream Fortress VI cosmetic items.  The items dropped from the Cauldron will either be Unique, Haunted, or Strange Haunted qualities–and at least one will be Strange Haunted. The Gift Cauldron is Limited so it is not marketable, giftable or tradable, nor sold in the Mann Co. Store, but I assume the items it drops are giftable and tradable…?
Any Strange Haunted items will have two Strange Parts automatically attached to the cosmetic item: the "Carnival Games Won" Strange Part and the "Carnival Underworld Kills" Strange Part (which measures players knocked off the track.
It is possible to get a second Halloween Gift Cauldron by earning the Merasmachievement "Bumper to Bumper to Bumper", by being on the winning team for all three bumper car mini-games at the end of rounds of the Carnival of Carnage map.
Meanwhile, it is possible to buy any of the 50 new Halloween-themed cosmetic items in the Mann Co. Store.
3. Unlock the Necro Smasher
Complete the "Step Right Up" Merasmachievement, by completing 4 other Merasmachievements, to earn your very own Necro Smasher! It is an all-classes-but-spy wooden mallet you can use to melee bludgeon your foes, just like your stock melee weapon. If you're an Engineer, it'll also repair your stuff. It's tradable.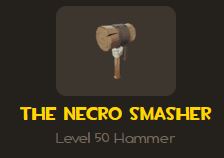 Full Patch Notes
Scream Fortress VI has arrived!

Help Merasmus with his carnival!
Comic and additional information available on the website (http://www.teamfortress.com/screamfortress6)
Scream Fortress VI runs until November 12, 2014
Added new Halloween map Carnival of Carnage

Merasmus will spread misfortune with server wide curses
Added a Strongmann Test-Your-Strength machine which is in no way an eldritch portal to Bumper Car Madness!

Added bumper car minigames. Win by completely ghostifying the other team or by completing the objective
Alt-fire to speed boost your bumper car
Cast magic spells while driving
The collision force a bumper car receives increases as the car takes damage
Force is displayed in the bumper car HUD as a percentage

Ghosts can come back to life by touching a friendly bumper car

6 new achievements
During Scream Fortress VI:

A Halloween Gift Cauldron is granted to all players who play during the event
Added Halloween crates to the Mann Co. Store. These crates do not require a key to open
All Unusual hats and taunts that are unboxed during the event will receive Halloween-themed Unusual effects
Previous Scream Fortress content is available in the Mann Co. Store
General :

Reduced the number of Fireball spells granted to 2[2]
Updated the tf_spells_enabled ConVar

Removed the Teleport spell from the general spell list when spells are enabled outside of Helltower
Added rare spells to the general spell list, except Skeletons and Monoculus

Turning a player into a ghost now grants the attacker a kill credit
Players can now fly around as a ghost by holding the jump key
TargetID system

Now creates a floating health indicator over the target
Reduced size of nameplate
Added tf_hud_target_id_alpha ConVar to control the transparency

Fixed player voice transmissions not transmitting the last second of recording
Fixed a dedicated server crash when the autoexec.cfg contains a bind command

Fixed Unicode font performance and rendering issues for Mac clients
Fixed an exploit that allowed players to remove the ghost condition
Hammer :

Added a field to the Tools->Options->3DView tab that multiplies the length of the rendered light_spot cone preview
Undocumented Changes
Added a new startup music track for Scream Fortress VI.
Removed old Scream Fortress startup music track from the game.
Corrected the description of FR-0.
Oh, By the Way…
There's this: someone reported a serious flaw in TF2 so Valve could fix it. To thank him, they let him have a hat of his choice: a one-of-a-kind Strange Cheater's Lament with Sunbeams! (Courtesy of Nuunsa and Reddit)
[N] Obey