Changes in Recent TF2 Trading Prices
Posted on: January 26th, 2015 by Obey
It's been a slow news cycle for the TF2 world. So in surfing around for something to write about,  I made some observations about the trade value of some TF2 items.  If you haven't traded anything in a while, you may or may not learn something here:
1. The Price of Keys is Too Damn High
Keys are about 14 refined metal.  Each.  Yes.  FOURTEEN.
Yes, they went up to 7-8 refined last summer.  Yes.
You may remember before that they were 4 refined, and then 3 refined before that.
Actually, this price has stabilized, since keys had spiked to 17 refined last Christmas (12/25/14). You can contemplate why that would be. See for yourself here.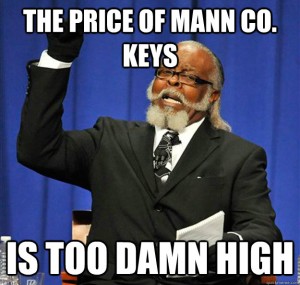 Which means in Steam Market Value, 1 refined is worth roughly 15 cents. And while a Mann Co. Crate Key is purchased for US$2.49, the price has bounced over the last year from $2.20 to $2.45 depending on demand.
Keys aren't moving in price; demand for metal is going down. When newer items become craftable, demand for metal will go back up some because people will buy metal and hats to try to craft them. The "End of the Line" and Smissmass 2014 items are not yet craftable, so of course demand for keys is spiking. Naughty 2014 Crate Keys are almost $3 in trade value; people without the money to buy them direct are trading items to acquire these keys.
2. Varieties of Botkiller Weapons Are Not Priced By Tour Difficulty
Now that the chance of dropping an Australium weapon has been spread to all Mann Up Tours, there are more Botkiller weapons that ever on the market.  This means that in most cases, a common BK weapon is cheaper than a standard strange version in many cases.

Rust BK (intermediate, common): 2 – 5 ref
Silver BK Mk. I (expert, common): 2 – 6 ref (Rocket Launcher for 8 ref)
Silver BK Mk. II (expert, common): 3 – 7 ref
Carbonado BK (expert, common): 2.33 – 6 ref (Scattergun for 12 ref)
Blood BK (intermediate, rare): 1.5 – 4 keys
Gold BK Mk. I (expert, rare): 1.5 – 4 keys
Gold BK Mk. II (expert, rare): 1.5 – 3 keys
Diamond BK (expert, rare): 2 – 3 keys
3. Got Any of This Rare Loot?
If you're not playing TF2 anymore, but you want Steam Wallet funds to buy new games, you can always sell these items on the Market! I listed a few oddball items here; it is always worth checking backpack.tf or the like to make sure a random item doesn't happen to be rarer than you think it is.
Oh, and as of this writing, exactly 55 golden frying pans exist.  They trade for 100-125 buds (or about US$3,000.).
4. What TF Items Can I Get for US$0.25 on the Market?
Because why not? (All of these snips taken 1/26/15.)









This is just a few of the many items available in the Market.
For more information on TF2 items and their item qualities, see A TF2 Newbs Guide to Getting More and Better Items.
[N] Obey
P.S.  All prices on this blogpost from backpack.tf, except when quoting the Steam Market.
Tags: bk, botkiller, diamond, frying pan, genuine, gold frying pan, gold pan, item, keys, market, metal, ref, rust, strange, tf item, tf2 item, trade, vintage