"Server Wars" Charity Event: #4 vs #8
Posted on: June 20th, 2014 by Obey
Want to watch some Newbs Dustbowl regulars slug it out with some Newbs 2Fort regulars in a battle for server supremacy and to raise money for a good cause?  OF COURSE YOU DO!
Two hand-picked teams of twelve are preparing to duke it out, and you can watch the stream live here on July 19th at 9pm EST/6pm PST! Two rounds of both 2Fort and Dustbowl will be fought, and the side that caps soonest will win that match.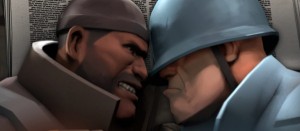 Child's Play seeks to improve the lives of children in hospitals through the kindness of the video game industry!  D'awwwww. You can donate through PayPal.
Oh, and there will be prizes for spectators…!
[N] Obey
FYI: The Love & War–Day Two blogpost got 1702 hits in the last two days! Thanks for all your visits, and don't forget to Bookmark us in your favorite browser!
Tags: #04 vs #08, 2fort, 4 vs 8, charity, child's play, dustbowl, tf2, tf2 charity event, twitch