Posted on: December 14th, 2014 by Obey
Been up all night getting duckies? Catch up with the Newbs News below!  As usual, the summary is at the top, and the full patch notes are at the bottom.
You can turn unwanted items in your Steam inventory into Gems, a currency used to bid for new games during Steam Auction periods.

You can recycle items into Gems. Gems are marketable in stacks of 1,000.
You can buy booster cardpacks with Gems.
You can bid for Steam games with Gems.

Server provider Packhead is

no longer streaming

24/7 Christmas music through 12/25.
Participate in the monthly Server #15 Stats Contest and win keys!
Wanna sign up for some TF2 Newbs Secret Santa give-and-take?
Post-EotL TF2 Patches

Redesigned the Backpack Panel: Click on an item for a drop-down menu of actions to choose from.
Added the Cold Snap Coat to the EotL Community Crate #87.
Fixed Halloween footsteps being displayed for disguised Spies… heheheh.
Check the previous blogpost for info on the "End of the Line" Update!

[Added 12/15/14] TF2 Newbs' Server Rules have been modified/clarified in regards to dodging autobalance.

TL;DR: Don't dodge autobalance, as you can be banned for it, especially if your behavior causes the server to empty. Please refer to the specific text in the link above.
1. Steam Auctions: Turn Unwanted Items into New Games

Splash page here, scroll down for rules. Comic here.
This promotion focuses on three new features offered by Steam:
You can now "recycle" or turn unwanted Steam inventory items into Gems, a permanent Steam currency
The ability to purchase Steam card packs with Gems
The ability to bid for new Steam games with Gems on a rotation Auction schedule
"Recycle" Your Unwanted Steam Items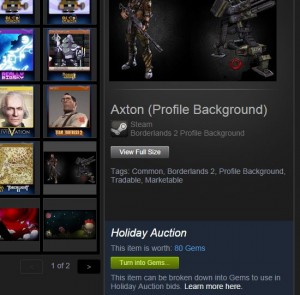 Here's the deal: Most of us Steam gamers have inventories of items that we will never use: backgrounds, emoticons, cards,  etc.  Steam now lets you turn those into Gems, a currency that you use to spend on packs of cards of a Steam game of your choice, or to place bids in the Holiday Auction.  Simply click on an item, and scroll down to see how much the item is worth in Gems (just above the Steam Market's lowest going-for price). With one click, you can turn it into Gems!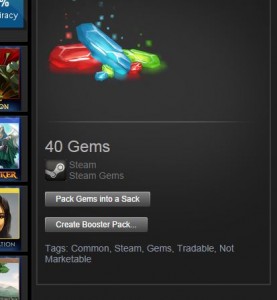 Gems exist in your Steam inventory as an item. Gems are tradable, but not marketable as-is. A "Sack of Gems", in increments of 1,000, can be marketed! As of this post, they are selling for about US$0.66 to US$0.72 in Steam Wallet Funds.
Gift copies of games, in-game items, and coupons are not recyclable for gems. Cards are worth very few Gems (usually less than 30). The popularity of the game and/or the lowest Market Price of the item affects how many Gems the item returns when recycled, so rarer items are worth more Gems. For example, one medikit emoticon from TF2 recycles into 100 Gems.
If you intend to participate in a Steam Auction, you will want to have Gems in the tens of thousands. (If you are NOT going to participate in the Steam Auction, and want some more Steam Wallet Funds, I suggest that you sell all of the items you wish and quicksell the Gems while the demand is high.)  Gems are a permanent currency and will remain after the Holiday Auction promotion.
Buy Steam Card Booster Packs with Gems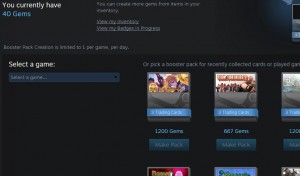 Click on your Gems, or this link, to find the button to the screen where you buy Booster Packs. A Booster Pack has three random cards of the game's set, and collecting them will increase your level badge for the game (which earns you more Steam Items which you may keep, recycle, or Market), as well as earn you EXP towards leveling up your Steam Profile. NOTE: You can only purchase one Booster Pack with Gems per game, per day.
Each Steam game that features Steam Trading Cards will now show its price, in Gems, to buy a Booster Pack. For example, the screenshot above shows TF2 Booster Packs can be bought for 667 Gems each.
This feature will remain permanent, even after the Steam Holiday Auction ends. Perhaps you can buy more things with Gems at a later date?
Bid on Steam Games in the Auction
First, go to the Auction and place a "maximum bid" of Gems on a game of your choice, which may or may not be higher than the current Highest Bid. Bids that you place remove that many Gems from your inventory. Then you wait.
The first copy of the game will sell to the Highest Bidder on December 15th at 7:45 AM PST. After that, one more copy of the game will sell to the newest Highest Bidder every 45 minutes, 24 hours a day, until 100 games are sold and the Auction ends on Thursday, December 18th at 10:00 AM PST. After that, all the remaining bids will be deleted and your Gems returned to your inventory.
Don't forget that a Sack of 1,000 Gems market for roughly US$0.70 (as of this post), so I doubt that you would want to bid more than $20 worth of Gems (28,600 ish) for a $20 game.  It's not a fundraising event, but you might score a new game that hopefully someone hasn't bought you for Christmas already!
2. Packhead Still Christmasing It Up In Here
While you consider that unusual conjugation of the word "Christmas", you can listen to over 300 modern and classic Christmas songs thanks to Packhead, who provides some of our servers.  Just click on the M3U button to choose a program to stream through your internet connection.
3. December Stats Content for Server #15!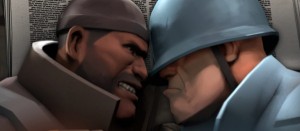 Hey, there's still plenty of December left to muscle in and take a title! The following five contests are taking place on this 24/7 Hightower server!
connect s15.tf2newbs.com
Most Points (the player points earned as displayed in your HUD)
Most Backstabs
Time Played (because idling also helps keep servers full)
Most Airblasts
Most Kill Assists as a Medic
Click here to pull up a list of Server #15 stats, then choose the stat to pull up the list of who is winning.  The top performer of each stat will win a prize (limit one contest win per month).
4. Secret Santa Stuff
If you would like to participate in Secret Santa, click here to sign up!
5. Post-EotL TF2 Patches
New Cosmetic: the Cold Snap Coat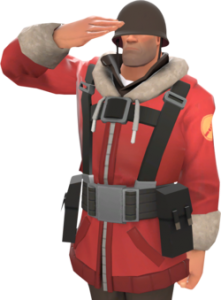 The Cold Snap Coat is a tradable, giftable, paintable, and craftable Soldier cosmetic that was added to the EotL Crate #87 on December 12th. Like all items from that crate, there is a chance of it having the Strange quality when uncrated. It is not yet available for purchase. Paint affects the brown jacket collar around the Soldier's neck only.
Full Patch Notes: 12/12/14
Full Patch Notes: 12/10/14
Undocumented Changes
Full Patch Notes: 12/9/14
Fixed a client crash related to the material system
Fixed the Restore command not working properly in the backpack panel's context menu
Fixed a crash in the item import tool
Fixed updating Duck Journal stats from ducks created on servers using sv_cheats
Fixed the Taunt: Pool Party item to fix a problem with the pool not scaling smoothly
Updated the materials for the Hunter Heavy and the North Polar Fleece
Notes missed from the previous update:
End of the Line Key, Duck Journal, and Duck Token sales support the End of the Line team
Redesigned the backpack panel

Clicking on an item creates a context menu that lists the valid actions for that item
The context menu replaces the buttons that were used for interacting with items
[N] Obey